Websites to Learn Programming Language: Today is the era in which education has become so expensive that even for doing a small course one has to pay high fees. Where we talk about learning a computer programming language or knowing coding, then it becomes even more difficult.
If you are interested in learning programming language and you want to learn web designing or web development course. But you do not have enough money that you can take admission in a good institute or buy any online pad course, so today in this post we are going to tell you about the top 5 best free websites to learn programming language online. You can learn programming languages ​​online for free sitting at home.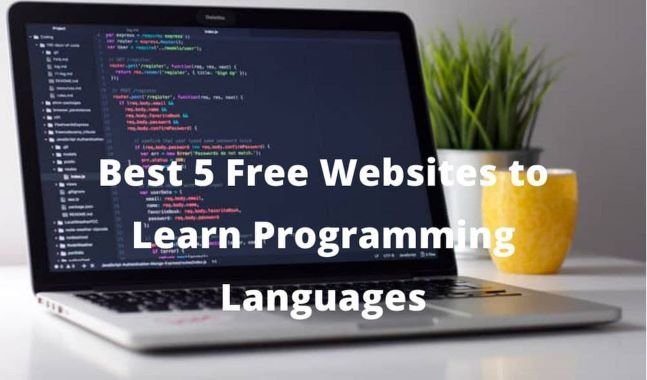 In today's time, there are many such free websites on the internet where you can learn programming languages ​​online for free. Here we are going to tell you about the top 5 best free websites which are very popular. All these websites have been designed in such a way that you can learn easily. Here you can also do courses in web designing and web development. With this, you will find many more languages ​​here like Java, C, C++, Python, Jquery, PHP, Bootstrap, etc. which will help in web designing and web development. 5 Best Video Editing Software for YouTubers and Bloggers (Freemium)
5 Best free Websites to Learn Programming Language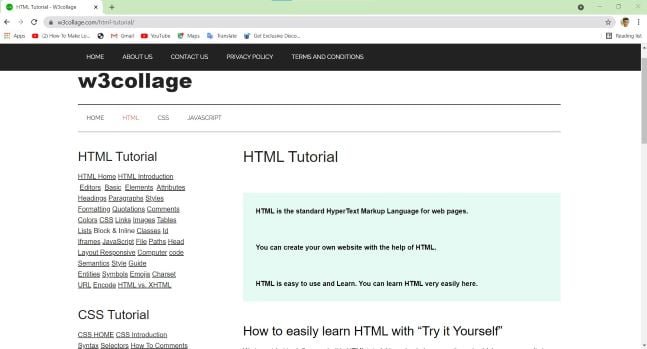 w3college is a free website to learn programming languages ​​online for free, where you can learn without paying. This website has been designed in such a way that any program can be easily learned by the student. From this website, students can easily learn HTML, CSS, and JavaScript, etc. languages. Along with this, the theory is also explained with examples. The best part is that it does not require anyone to log in.
At the moment this is a new website. In this, the full material of HTML, CSS, and JavaScript is explained in detail. Apart from this, the best thing about this website is that after writing any code in it, you can also see its preview through Tryit Yourself Editor. W3collage website is similar to the w3schools website.
2.  w3schools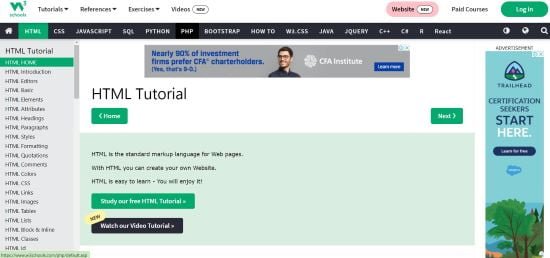 This website is one of everyone's favorite websites. From here you can learn web development courses online. Apart from being a very popular website, on this website, you will get to see all the courses which are necessary for web programs and web designers.
On this website, you will get to learn HTML, CSS, Bootstrap, JavaScript, Jquery, PHP, and many more courses for free. The best thing about this website is that after writing any code in it, you can also see its preview through Tryit Yourself Editor. These are the best free websites. Where you can learn programming languages ​​for free
3.  TutorialsPiont
This website is an online best free website. Here you can learn coding online. This website is a great website to learn programming language or code online. Apart from coding, there are many other courses on this website that you can easily learn. Another good thing about this is that this website provides all the courses for free. Along with this, if you want to learn in advance, then this website also provides paid courses.
On this website, every topic or course has been explained in a very easy way. So we can say that this is the best website. In this, you can create your own account for which you need to log in. Along with this, this website also provides course videos so that students do not have any problem in understanding. In this, it provides you all the courses like HTML, CSS, JavaScript, PHP, MySQL, Java 8, JDBC, Swing, SQL, Database, Android, C++, Python, C#, Visual Basic, VB.net, etc. So this website is the best website to learn programming language for free.
4.  BitDegree  
BitDegree is one of the best platforms to learn programming languages ​​for free. This online learning platform offers courses in CSS, JavaScript, HTML, Jquery, Ruby, and other programming languages. Along with this the website also offers coding classes for subjects like game development and data science.
You need to log in to this website. In which you have to create an account through an email that is protected with your password. Whenever you open this website, you can log in with your email id and password. After this, you have to select whatever course you want to study.
One of the cool things about BitDegree is that it uses a token system to reward students every time a session is completed. These tokens can be used to get discounts for paid coding classes and some discounts for upcoming courses in the Community Vote Experience.
5.  Codecademy  
Codecademy is one of the best websites to learn programming language. The Codecademy website also offers a wide range of programming topics for free, like websites such as Bitdegree, W3College, and w3school. In this, students can choose the course according to which they want to master. If you're not sure where to start a course, this website has tons of quizzes to help you choose the right course.
The classes at Codecademy mainly cover courses like HTML, CSS. Apart from this, Codecademy also covers other programming languages, such as Go and Swift. They are used to build applications for Google and Apple respectively. But let me tell you one thing, Codecademy does not offer certificates for its free courses like BitDegree. For that, you have to buy its Pro plan which costs $19.99/month.
Conclusion:
In this post, we have told you about the 5 best free websites to learn programming language and coding. where you can learn from zero to a high level. In these websites, every topic is explained with examples. Which you can understand and learn very easily. In this guide, all the best places to learn to do courses at zero cost have been told in this post.
Related: