Best Way How to Find Someone on Instagram By Photo 2022
In this article, we will show you how to find someone on Instagram by photo. Instagram One of the most popular social media platforms available, Instagram comes packed with a ton of exciting features, especially for those who love photography. What makes this social media platform the most addictive place for people of all ages and backgrounds. Who want to capture memories with their loved ones.
Sometimes, we have a photo of a person, but we don't really know their name or the username they use for their Instagram account. The good news is that anyone can be searched by their photo. Which lets you search Instagram accounts through their profile photo. You must have heard about Instagram reverse search or image search option.
Through this article, we are sharing with you a method by which you will be able to find an Instagram profile with just one picture.
But remember, these strategies are not guaranteed to get the exact profile but will definitely help you narrow down your search to get more accurate results. In this article, we will talk about reverse image search, position finding, and more along with various tools and techniques.
Step By Step Guide On How To Find Someone On Instagram By Photo:-
We know step by step how to find someone on Instagram by photo…
1. Use Google Image Search
There is no such feature on Instagram that can be found by picture. But the best way how to find someone on Instagram by photo is to do a reverse Google image search. Will display a list of common images available on the web. The search engine will show you relevant photos along with the source. You need to get started with the steps given below
Go to www.images.google.com.

Click on the camera icon on the right side of the search bar.

Press on the "Upload an Image" tab.

Click "Choose File" to securely add the image to the search.

Press "Enter.

"
Use Reverse Google Image Search On A Mobile Device
iPhone
To perform a reverse image search on an iPhone to learn how to find an Instagram account by photo,
Follow several steps you must.
Open Safari and type in www.images.Google.com.

Tap on the Aa button on the bottom left corner, and press "Request Desktop Website."

Press on the camera icon to the right of the search bar.

Upload the image you want to search.
To perform a free Instagram image search using this too, follow the steps below.
Download the Google app from the Apple App Store.

Press on the camera icon on the right side of the search bar.

Select the images that will help you find an Instagram user.

Wait for the results to load!
Android
On an Android browser, it is best to use the Google Lens feature. Follow these steps
Open the browser and type in the website that has the photo you want to search.

Press and hold down on the image.

Press "Search with Google Lens."

Scroll to the bottom of the page to see all of the results that you need.
Again, you can use the Google app on your Android device to learn how to find someone on Instagram by photo. You can find the details for this method in the steps below.
Open the Google app and tap on the "Discover" tab.

Tap the camera icon that is on the search bar.

Upload the photo from Instagram that you want to search.
When the process finishes loading, scroll down to see the results. Remember, there should be a link to Instagram if the account is not private.
Related Post:
Google is not the only browser that lets you search by an image. Bing also offers the same features as Google's image search tool. Here, you can find any information by uploading their image or the URL of the photo.
Open Bing and upload the photo of the user by opening the camera long the search bar. Even though you upload images to Bing to perform a reverse image search, the process is one of the safest ways to perform a reverse image search, as all the photos on Bing are deleted automatically.
Open the Bing Search Engine on your device.

Tap on the Camera icon in the search bar.

Select and upload an image from your device or enter the image URL.

you will see the result in four different tabs such as All, Looks Like, Text, Pages With This Image, and Related Content.

Just look for the Instagram link in the search result.
Third-Party Apps To Find Someone On Instagram By Picture
There are some such third-party apps that provide this feature. You can also choose them when you need to find Instagram Photo by the image. You should also need to know these apps. In the information given below, everything will know in Details-
1. TinEye (A Instagram Image Search App)
If you feel that there is difficulty in searching the reverse image on Bing and Google or you can use TinEye. This is a popular reverse image search tool that uses unique algorithms to match the image uploaded with photos related to the web.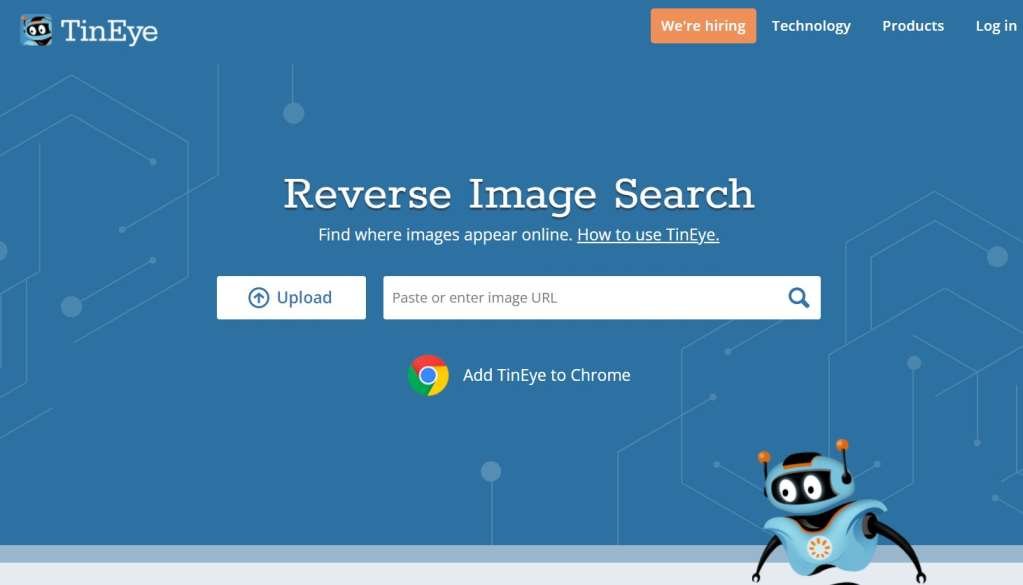 You can use it very easily. Open this website and upload the available image available on your Desktop. After this, you hit the search to find results. The tool will display a list of pictures from Instagram, Facebook, Twitter, and other social platforms. That's what you uploaded. It uses a harassing algorithm to search reverse images.
2. Berify
Berify is one of the most different tools because it is a reverse video search Instagram tool and can see photos. This tool is one of all tools that are available in the market. You can try this tool for free. There is no charge to log in to this tool or create an account. While using the Reverse Video Search Instagram Tool, Berify will pass through specific thumbnails present in your movie. This will help you find other videos which use some similar clips.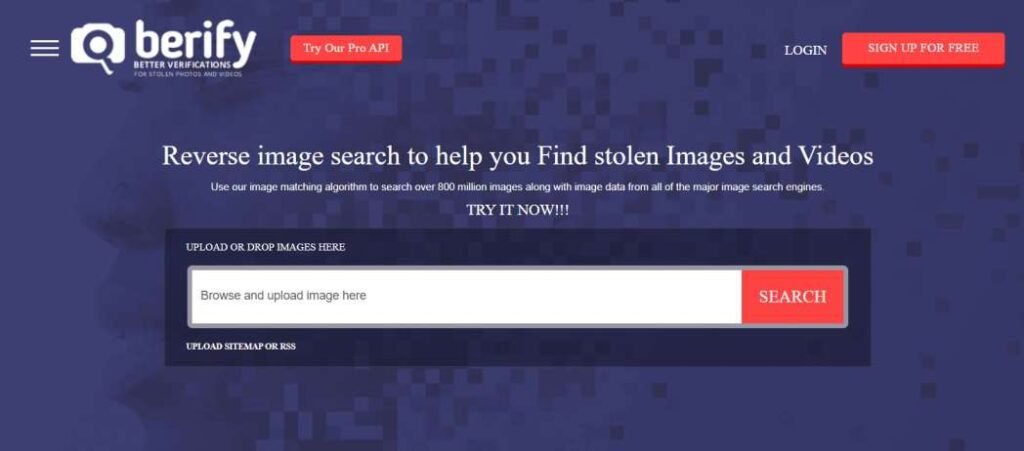 It has its own database so that you can drag the latest uses of those photographs that you want to find easily. It works closely with Bing, Google Images, and Yandex, which suggests that the results provided are most accurate in society.
3. Social Catfish
As the name suggests, Social Catfish is specifically designed for people to find user images uploaded to various social sites. Basically, it is a type of photo search engine. Hence it gives you the most accurate results.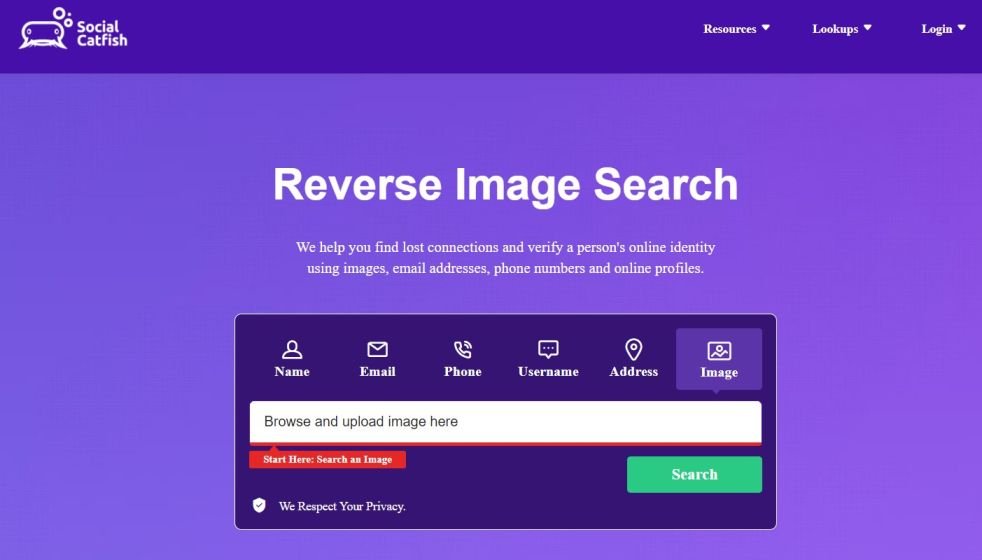 This tool works when the person you are looking for through the image must have an Instagram account. Along with this, the photo has also been uploaded to his profile. So that the reverse image tool can trace their account through the uploaded image. Instagram does not have a direct reverse tool function. You have to use third-party services to find the target user with the sources.
4. Yandex.Pictures
Yandex is the best option for you. You can use Yandex as a way to learn how to find someone on Instagram by photo. This browser is rarer than Google Chrome and Bing, for instance, but still useful.
How to find someone on Instagram by photo:
Go to www.yandex.ru.

Select the "Pictures" tab

Next to the search bar, click on the camera icon

You can select a file from the computer by dragging it into the appropriate field or specify a link to the picture by analogy with the Google picture service.

After you upload your images to Yandex, you will not have to deal with any notifications or other alerts. You will see the results from your search almost immediately so that you can find out who the user is behind an Instagram picture that may show up on your profile.

Check out the suggested links to find the page you are interested in…
This browser comes from Russia, but it is secure and safe. Try to avoid searching for private information if you can help it.
Conclusion:-
Although there is no reliable method for Insta to find the source of the image, even by using meta or digital picture imprint, the methods above will narrow down the search parameters. But we have mentioned some of the steps above which can work for finding someone's profile using the image.
We cannot take guarantee that these methods will work a hundred percent, but yes there are some possibilities that you get the expected result. I hope this article on how to find someone on Instagram by picture helps you.
Disclaimer:
All the information on this website is published in good faith and for general information purposes only. Technomarking does not make any warranties about the completeness, reliability, and accuracy of this information. Any action you take upon the information you find on this website (Technomarking), is strictly at your own risk. Technomarking will not be liable for any losses and/or damages in connection with the use of our website.
Related Post:

An aspiring BCA student formed a Blogging, Digital Marketing, SEO, Freelancing, and Helping To Build Amazing WordPress Websites.